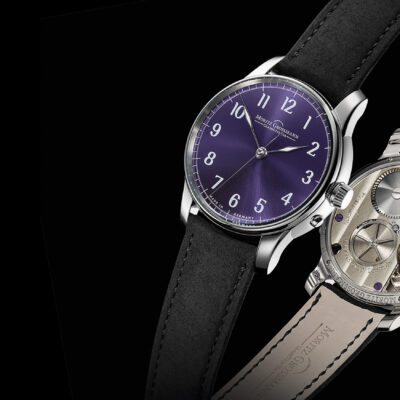 Collection
A vision comes true:
our watches.
Moritz Grossmann timepieces are icons of modern thinking, pure design and genuine watchmaking artistry — with numerous facets yet reduced to the essence. In brief: Schönstes deutsches Handwerk.
Manufacture
The best tools of our time: our bare hands
Before Moritz Grossmann watches grace a wrist, they pass through the hands of many masters. This is because for us, "made by hand" is not just a method, it is a philosophy and a conviction.
The
Grossmann's

peculiarities

Whether developed according to historical model or from completely new considerations - the watches of Moritz Grossmann are striking distinctive features that stand for their uniqueness.
Further information about our calibres
A contemporary twist reinterpreting "Schönstes deutsches Handwerk"
TREMBLAGE
hand-engraved TREMBLAGE for the 13-year anniversary of the manufactory
Learn more
limited edition model featuring manually crafted gold hands
TOURBILLON
The TOURBILLON impress with ornate, exquisitely finished hands in 750/000 rose gold
Learn more
Seven time zones at a glance
UNIVERSALZEIT
The UNIVERSALZEIT makes it possible to see the current time in different time zones around the world at a single glance. Designed in the shape of a world map, the dial uses time windows precisely aligned with coordinates and city names as a means of providing orientation in terms of time and geography.
Learn more
shines during the day, lights up at night
CENTRAL SECOND
While conventionally the small second hand is placed in the six o'clock position in the bottom third of the dial on Grossmann watches, here a large-scale second hand is positioned in the centre of the highly refined dial. CENTRAL SECOND combines a case made from polished steel with a charmingly elegant feel and superb functionality.
Learn more
vintage timepiece in honour of Moritz Grossmann
POWER RESERVE Vintage
To commemorate the revival of the brand and pay tribute to the inventor, visionary and master craftsman Moritz Grossmann, a traditional version of this wristwatch is now being released. The POWER RESERVE Vintage features a historic dial in argenté echoing Moritz Grossmann's classic pocket watches.
Learn more
in rectangular design
CORNER STONE
The flat case of the CORNER STONE with the curved lugs nestles perfectly on the wrist of both ladies and fashion-conscious men and always makes an elegant statement.
Learn more
Both versions are limited to eight watches each worldwide
BACKPAGE Transparent
Sapphire crystal dial allows a clear view of the moving spectacle of Grossmann's watchmaking artistry
Learn more
A statement for timeless good taste
37 ARABIC Black&White
Black and white – no other pair of opposites has a better command of contrasts. With the 37 ARABIC Black&White, the independent Glashütte manufacturer Moritz Grossmann interprets the iconic colour contrast with an outstanding feel for aesthetics and elegance.
self-winding watch with hammer system
HAMATIC
The self-winding hammer system with pendulum weight reveals a peek of the intricate mechanics and converts even the smallest movement into impressive winding power
Learn more
Moritz Grossmann -


Schönstes deutsches Handwerk

An origin is more than a place. It evokes emotions, a sense of belonging, and dependability. Moritz Grossmann found it in Glashütte, the cradle of German watchmaking artistry. This is where, in the middle of the 19th century, he developed forward-looking ideas that today constitute the DNA of our timepieces.

Here, manufacturing means more than production methods, it is also a philosophy: From the Grossman balance to the hands, nearly all the parts of our watches are manually crafted down to the last detail. The "smiling two", with the hands set to ten minutes before two, is more than a symbol – it expresses our personality.

The stated goal of Moritz Grossmann was and is to produce watches that are clear in design, advanced in mechanics and perfect in performance. We are committed to this tradition. As the only manufactory in Glashütte, we manufacture our hands as well as the movements. From the sketch to the finished product: A Moritz Grossmann watch is a joint work of art.

More about our history