Milestones in artisanship
TOURBILLON
Back
Versions
Rose gold
ReferenceMG-001354
Case750/000 rose gold
Dialargenté
Handsmanually crafted, steel,annealed to a brown-violet hue
Limited to 25 watches worldwide
White gold
ReferenceMG-000004
Case750/000 white gold
DialArgenté
HandsHand-crafted, steel, annealed to a brown-violet hue
Limited to 50 watches worldwide
White gold
ReferenceMG-000779
Case750/000 white gold
DialBlack
HandsHand-crafted, stainless steel
Limited to 10 watches worldwide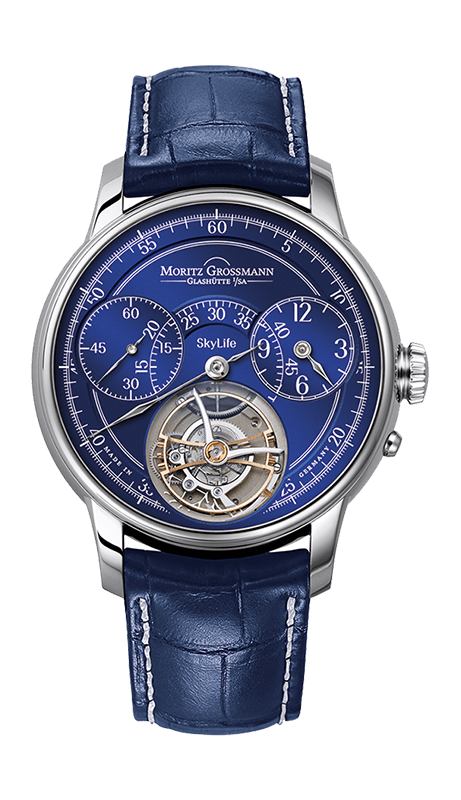 White gold
ReferenceMG-001173
Case750/000 white gold
Dialblue
Handsmanually crafted, polis-hed stainless steel
The tourbillon crowns the BENU family. After all, the flying three-minute tourbillon with stop seconds is one of the most formidable challenges in horology.
The complex choreography of mechanical precision can be admired through the sapphire-crystal back. It expresses technical virtuosity and stands for traditional craftsmanship.
The winding crown and the pusher
The novelties
Pairing the Grossmann balance with a tourbillon made it necessary to question some classic principles of horological design. For the TOURBILLON, key movement functions were reconceived to accommodate the aspirations of Grossmann's watchmakers with respect to precision, efficiency, and aesthetics. The Grossmann three-minute tourbillon is based on the insights of respected Glashütte watchmaker Alfred Helwig, who developed the flying tourbillon. The unusual size and the seductive gestalt of the tourbillon are beautifully showcased with a longer periodicity. A patent-pending stop-seconds mechanism with a fine-tipped brush made of human hair completes this stunning tourbillon implementation. The TOURBILLON comes in an exclusive limited global edition of 50 watches.
The dial
The solid-silver dial is tripartite. Two recessed subsidiary dials with unambiguous scales and distinctly different hand shapes complement the minute indication from the centre. The aperture for the 16-millimetre tourbillon cage is unusually large thanks to the off-centre positions of the auxiliary dials for the seconds and hours. When the minute hand progresses into the tourbillon aperture, the missing ten-minute segment is replaced by the scale on the opposite side and swept by the extension of the hand. This delivers a clear reading of the time span from 25 to 35 minutes in the space between the subdials. A patent has been registered for this dual display function.
The winding crown and the pusher
The conical pusher adjacent to the crown reveals the presence of an ingenious handsetting mechanism: the Grossmann winder with pusher. A short tug on the crown switches to the handsetting mode and at the same time stops the movement. The crown immediately returns to its home position but can now be turned to set the hands. Then, the movement is restarted with the pusher and the mechanism switches back to the winding mode.
The hands
The steel hands with the wispy tips are crafted manually in-house and annealed to a brown-violet hue over an open flame.
The butterfly clasp
The butterfly clasp affords extra protection and remains firmly locked until the lateral safety buttons are pressed. It features an engraved logo and assures a particularly snug fit on the wrist.
The
calibre 103.0
Discover everything about the heart of the TOURBILLON.
Learn more
Tech Specs
Movement
Manufacture calibre 103.0, manually wound, adjusted in five positions

Functions / features
Flying three-minute tourbillon with screw-secured driving wheel and V-shaped balance bridge (design patent pending) / Sweep minutes, off-centre hours and seconds with stop seconds, replacement of the missing minute scale segment from 25 to 35 minutes with a separate scale swept by the extension of the minute hand on the opposite side (patent pending) / Stop seconds at the balance wheel rim with a pivoting fine-hair brush (patent pending) / Asymmetric-arm lever escapement with counterweight and lever banking pin / Grossmann balance with suspended balance spring, adjustable with poising screws in the rim / Newly developed mainspring barrel jewel bearing / Brake ring on the fourth-wheel arbor made of very hard, oily guaiacum vARCAP train wheels / Grossmann winder with pusher to deactivate the handsetting mode and start the movement / Modified Glashütte stopwork with backlash / Pillar movement with 2/3 plate and frame pillars in untreated German silver / Hand-engraved 2/3 plate and tourbillon cock / Broad horizontal Glashütte ribbing / 3-band snailing on the ratchet wheel / Raised gold chatons with pan-head screws / White sapphire bearing jewels / Separately removable clutch winder
No. of parts
245 (wheel train 186, cage 59)

No. of jewels
30, 4 of which in screwed gold chatons (wheel train 17, cage 13)

Escapement
Lever escapement

Oscillator
Grossmann three-minute tourbillon with stop seconds; shock-absorbed Grossmann balance with 4 inertia and 2 poising screws, suspended Nivarox 1 balance spring with No. 80 terminal curve, Gerstenberger geometry

Cage speed
1 revolution in three minutes, anti-clockwise when viewed from dial side

Balance diameter
14.2 mm, frequency 18,000 semi-oscillations per hour

Power reserve
72 hours when fully wound

Operating elements
Crown in 750/000 white gold to wind the watch and set the time, pusher in 750/000 white gold to start the movement

Case dimensions
Diameter: 44.5 mm, height: 13.8 mm

Movement dimensions
Diameter: 38.4 mm, height: 7.1 mm

Case
Three-part, in 750/000 white gold

Dial
Solid silver, three-part, argenté or black, with Arabic numerals

Hands
Hand-crafted, steel, annealed to a brown-violet hue or stainless steel

Crystal / display back
Sapphire crystal, antireflective coating on one side

Strap
Hand-stitched alligator strap with butterfly clasp in 750/000 white gold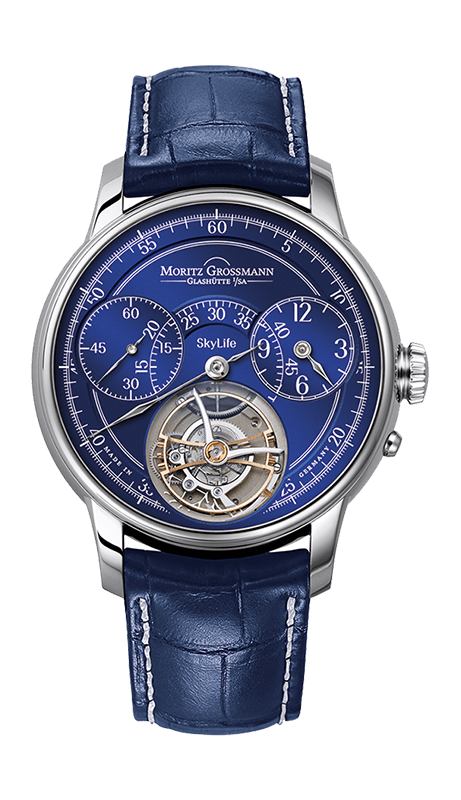 You have questions about
TOURBILLON