In a new rectangular design
CORNER STONE
Back
Versions
Novelty 2019
Rose gold
Reference:MG-002145
Case:750/000 rose gold
Dial:Solid silver, opaline
Hands:Manually crafted, steel, annealed to a brown-violet hue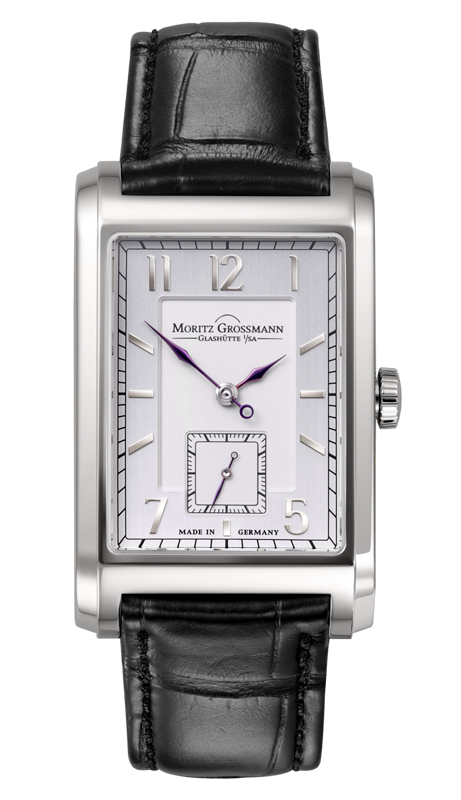 Novelty 2019
White gold
Reference:MG-002144
Case:750/000 white gold
Dial:Solid silver, opaline
Hands:Manually crafted, steel, annealed to a brown-violet hue
Novelty 2019
White gold
Reference:MG-001910
Case:750/000 white gold
Dial:Solid silver, black lacquered
Hands:Manually crafted, polished stainless steel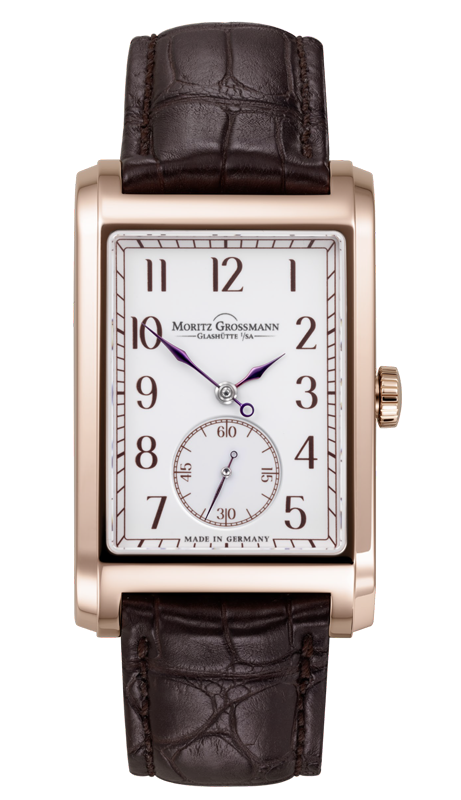 Novelty 2019
Rose gold
ReferenceMG-001950
Case750/000 rose gold
DialWhite Grand-feu enamel
HandsManually crafted, steel, annealed to a brown-violet hue
Limited to 25 watches worldwide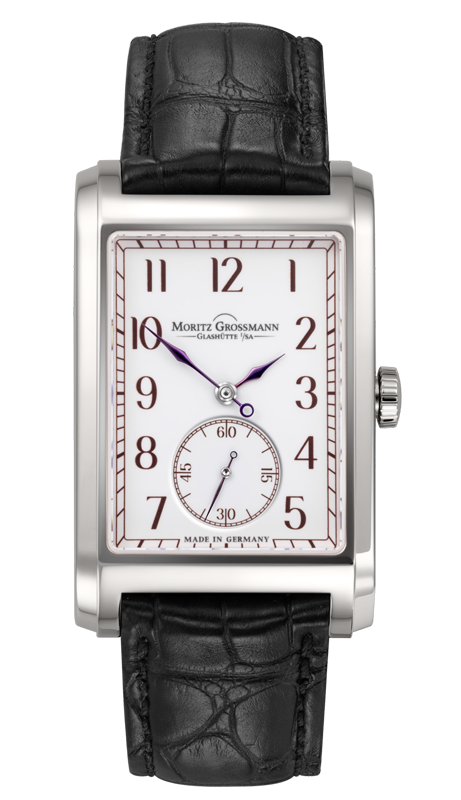 Novelty 2019
White gold
ReferenceMG-002142
Case750/000 white gold
DialWhite Grand-feu enamel
HandsManually crafted, steel, annealed to a brown-violet hue
Limited to 25 watches worldwide
The watch strikes four times at the top of the hour. Four seasons form a complete cycle. The new CORNER STONE model from independent watchmaker Moritz Grossmann, which will be presented to the press in Tokyo on 7 March, has four corners. If you pronounce the English term "corner stone" in Japanese, the words curiously sound very similar in both languages: "Kōnāsutōn". In Japanese script it looks like this: コーナーストーン
Grossmann Uhren GmbH wants to draw on this wonderful similarity between the two cultures and languages by naming the new model with the innovative rectangular design CORNER STONE. It is Grossmann's first watch in this design variant that is particularly popular on the Japanese market. The new calibre 102.3 was specially designed for the rectangular movement shape with a small second scale at 6.00 o'clock and a central hour and minute display.
in rectangular design
CORNER STONE
The flat case of the CORNER STONE with the curved lugs nestles perfectly on the wrist of both ladies and fashion-conscious men and always makes an elegant statement.
The
calibre 102.3
Discover everything about the heart of the CORNER STONE.
Learn more
Tech Specs
Movement
Manufactory calibre 102.3, manual winding, regulated in five positions

Special features
Grossmann balance; space-saving modified Glashütte stopwork with backlash; adjustment with Grossmann micrometer screw on cantilevered balance cock; pillar movement with 2/3 plate and pillars made of untreated German silver; balance cock and escape-wheel cock hand-engraved; broad horizontal Glashütte ribbing; 3-band snailing on the ratchet wheel; raised gold chatons with pan-head screws; separately removable clutch winding mechanism; stop seconds for hand setting
Functions
Hour and minute, small second with stop seconds

No. of jewels
24 jewels, of which 2 in screwed gold chatons

Escapement
Lever escapement

Oscillator
Shock-resistant Grossmann balance with 4 inertia screws and 2 poising screws, Nivarox 1 balance spring

Balance
Diameter: 10.0 mm, frequency: 21,600 semi-oscillations per hour

Power reserve
60 hours when fully wound

Operating elements
Crown in 750/000 gold for winding the watch and setting the time

Case dimensions
46.6 mm (length) x 29.5 mm (width) x 9.76 mm (height)

Movement dimensions
30.0 mm (length) x 20.0 mm (width) x 3.6 mm (height)

Dial
Solid silver painted or Grand-feu enamel, indices made from gold

Hands
Manually crafted, stainless steel, annealed in brown-violet for two variants and polished

Glass and caseback
Sapphire crystal, antireflective coating on one side

Strap
Hand-stitched alligator leather with prong buckle in precious metal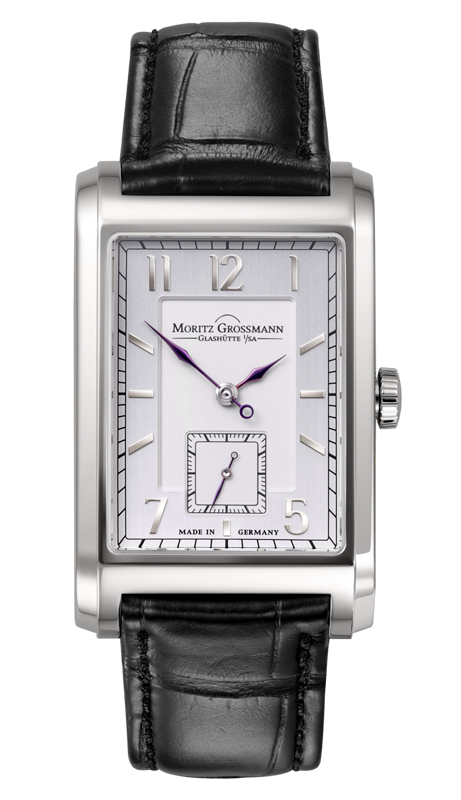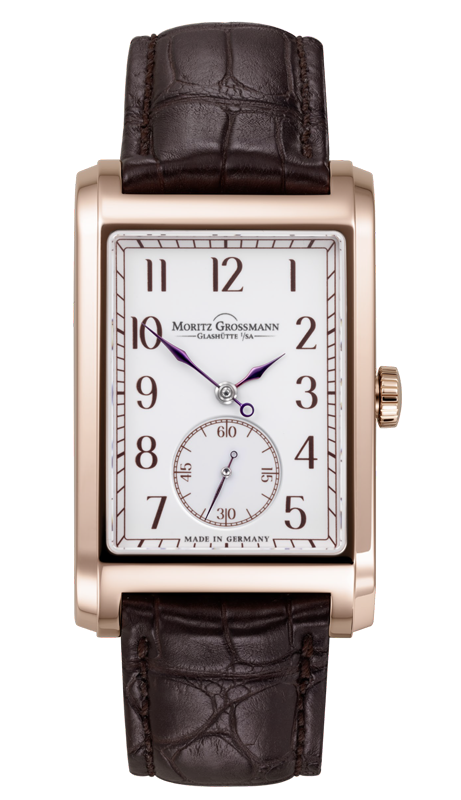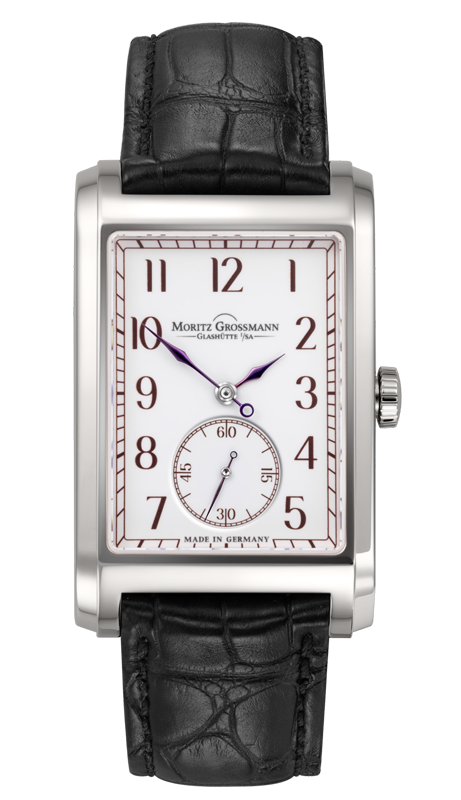 You have questions about
CORNER STONE