Versions
Rose gold
ReferenceMG-000347
Case750/000 rose gold
Dialargenté, faced with mother-of- pearl
Handsmanually crafted, steel, annealed to a brown-violet hue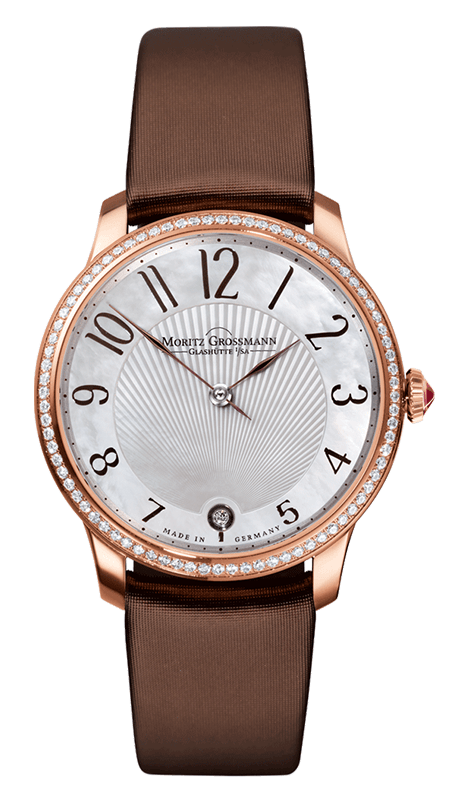 Rose gold Diamond Bezel
ReferenceMG-000349
Case750/000 rose gold, bezel set with 80 brilliant-cut diamonds, 0.73 ct
Dialargenté, faced with mother-of- pearl
Handsmanually crafted, steel, annealed to a brown-violet hue
White gold
ReferenceMG-000348
Case750/000 white gold
Dialargenté, faced with mother-of- pearl
Handsmanually crafted, steel, annealed to a brown-violet hue
White gold Diamond Bezel
ReferenceMG-000350
Case750/000 white gold, bezel set with 80 brilliant-cut diamonds, 0.73 ct
Dialargenté, faced with mother-of- pearl
Handsmanually crafted, steel, annealed to a brown-violet hue
The TEFNUT Lady is the first Moritz Grossmann watch that combines horological class with feminine charisma. A radial guilloché pattern unfolds across its sub-lime mother-of-pearl dial. The origin of the rays at 6 o'clock is a gold chaton with a glistening diamond. It underscores the gracefulness of this timepiece.
Two manually crafted hands in steel annealed to a brown-violet hue stand out with a delicately curved nodal shape and wispy contours. A gold bezel, option-ally set with 80 brilliant-cut diamonds, frames the elegant face of the watch. Its heart is the calibre 102.0 movement, a totally new development. Easily veri-fiable: This slender masterpiece proves that sparkling diamonds and technical brilliance are a perfect match.
The Case
Thanks to the new slender calibre, the silhouette of the gold case is graceful and poised. A gemstone embedded in the crown accentuates the eloquent appearance of the TEFNUT Lady.
Four elegantly curved lugs with a tapered chamfer assure a snug fit on the wrist as well as a seamless transi-tion to the meticulously crafted satin strap. It rounds out a fetching overall composition and contributes to the wrist-hugging comfort of the TEFNUT Lady. The strap is fitted with a prong buckle that safely secures the watch on the wrist.
Numerous exquisite movement details can be admired and observed through the sapphire-crystal caseback.
The Bezel
The exquisite face of the TEFNUT Lady is bordered by a slender gold bezel that can be optionally set with 80 diamonds. It adds a touch of feminine elegance to the intrinsically brilliant beauty of the watch. Together with the gold case, it complements an expressive, multifaceted whole.
The Dial
The face of the TEFNUT Lady vibrantly radiates timeless beauty. Its solid-silver dial is veneered with scintillat-ing mother-of-pearl. The guilloché pattern that radiates toward the centre of the dial as well as eleven Arabic numerals that seem to hover over the shimmering background are prominent eye-catchers of this watch. A diamond secured in a gold chaton at the 6 o'clock position enhances the brilliance of the elegant ladies' watch.
The hands
A new hand shape was developed for the TEFNUT model family. It corresponds perfectly with the underlying design of the refined dials and at the same time elevates the hands to the status of a distinctive Grossmann signature element. They are manually crafted from steel, shaped to their final form with diamond files, and annealed to a brown-violet hue to achieve the best possible contrast against the dial.
The
Calibre 102.1
Discover everything about the heart of the TEFNUT Lady.
Learn more
Tech Specs
Movement
Manufacture calibre 102.1, manually wound, adjusted in five positions
Special features
Shock-resistant balance with inertia and poising screws, impulse pin integrated in rim; flat balance spring; balance staff with integrated safety roller /index adjuster with Grossmann micrometer screw; plate movement with 3/5 plate, frame pillars, and separately removable clutch winding mechanism; frame parts in untreated German silver; raised gold chatons with pan-head screws; remodified Glashütte stopwork with backlash; mainspring barrel with bilateral jewel bearings for optimised power management; ARCAP train wheels; proprietary escapement with 18-tooth escape wheel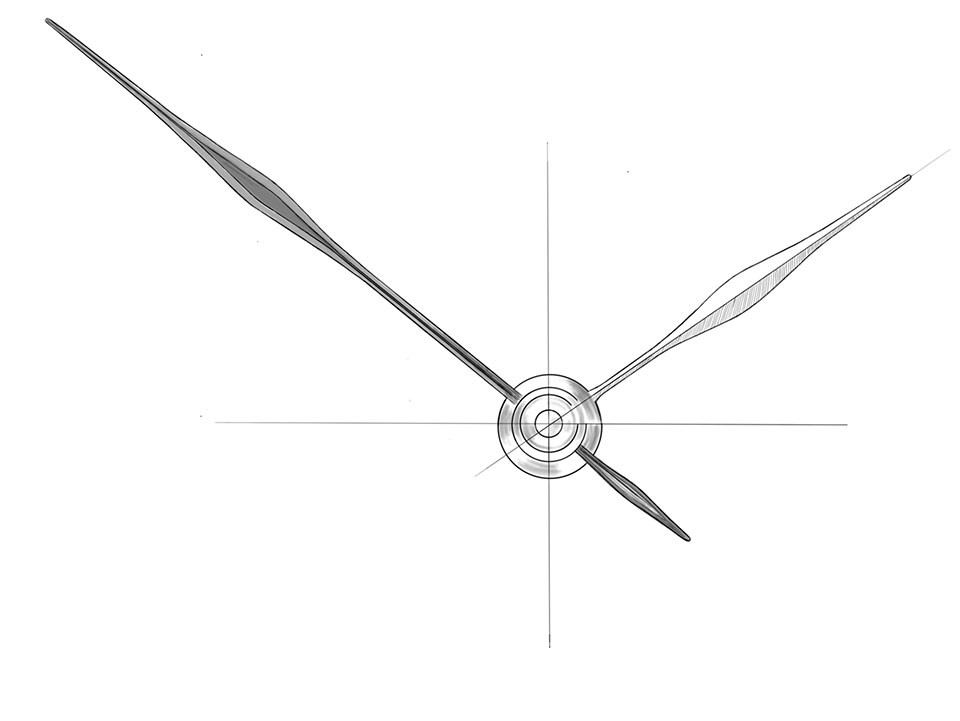 Functions
Hours and minutes
No. of jewels
22, of which 3 in screwed gold chatons
Escapement
Lever escapement
Oscillator
Shock-resistant Grossmann balance with 4 inertia and 2 poising screws, Nivarox 1 balance spring
Balance
Diameter: 10.0 mm, Frequency: 21,600 semi-oscillations per hour
Power reserve
48 hours when fully wound
Operating elements
Crown in 750/000 gold, with gemstone, to wind the watch and set the time
Case dimensions
Diameter: 36.0 mm, height: 8.6 mm
Movement dimensions
Diameter: 26.0 mm, height: 3.5 mm
Case
Three-part, in 750/000 gold
Diamonds
Bezel set with 80 brilliant-cut diamonds, 0.73 ct, TW vvsi1
Dial
Solid silver, faced with mother-of-pearl and guilloched, gold chaton with diamond at 6 o'clock
Hands
Hand-crafted, steel, annealed to a brown-violet hue
Crystal and display back
Sapphire crystal, antireflective coating on one side
Strap
Satin with precious-metal prong buckle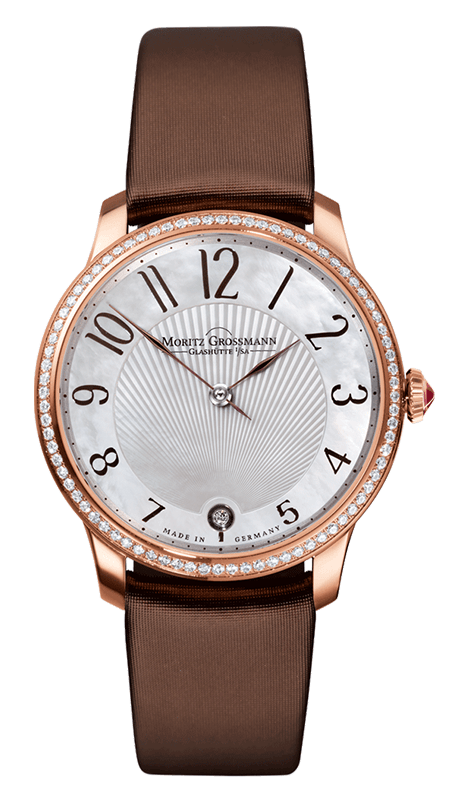 You have questions about
TEFNUT Lady