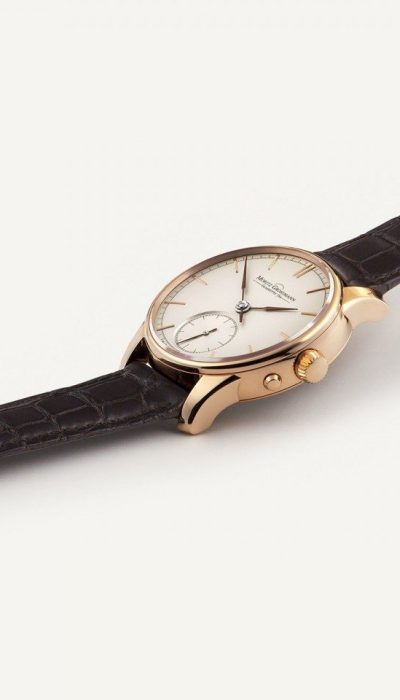 Reduced to perfection
INDEX
Back
Versions
Rose gold
Reference:MG-000463
Case:750/000 rose gold
Dial:Argenté
Hands:Hand-crafted, steel, annealed to a brown hue
White gold
Reference:MG-000465
Case:750/000 white gold
Dial:Charcoal
Hands:Hand-crafted, steel, polished
The INDEX embodies the apex of watchmaking artistry and is a timeless masterpiece of sleek elegance. The dial alone proclaims pure aesthetics: delicately chamfered hour markers replace Arabic numerals.
Manually crafted, lance-shaped hands add quintessential class to its overall personality. Despite its understated looks, it epitomises traditional craftsmanship and latest-generation engineering prowess.
The winding crown and the pusher
The novelties
The superb functionality of the INDEX is reflected in its splendidly balanced aesthetic appeal. Its personality comes to the fore in the quality of the materials and of the artisanship invested in the numerous manufacturing steps. Classic elements and contemporary horology converge to form a harmonious whole crafted with virtuosity and attention to detail.
The movement of the INDEX is embedded in a three-part case. Its slender bezel is the perfect frame for the lucid face of the watch. The applied markers with polished chamfers literally seem to levitate above the solid-silver dial. Because the subsidiary seconds dial is recessed in the main dial, the minute hand can sweep very closely along the crisply defined minute scale. Although the eye loves to dwell on the INDEX, the time is precisely legible at even a fleeting glance.
The winding crown and the pusher
The gently curved form and the tapered chamfer of the strap lugs enhances the eloquent silhouette of the case.
Aesthetic and functional — the circumferential groove makes it easy to pull out the crown. The pusher for the new handsetting train is set directly below the winding crown.
The hands
Hands manually crafted in-house are a rare sight. For the ATUM, they are lance-shaped to match the hour markers. In the hands of a master, they are fashioned from steel in a long series of elaborate steps. Broad chamfers add corporeality to the hands while emphasising their slenderness. For each hand, the steel is tempered and ground to achieve an extended, unusually sharp tip. The colour of the hands is chosen to optimise the contrast against the dial.
The sapphire-crystal
A sapphire-crystal glass protects the dial. It has an antireflective coating on one side to prevent viewdisturbing reflections of incident light. The extra-thick slightly cambered glass has a precision-ground chamfer that refracts the geometry of the succinct minute scale.
The butterfly clasp
Centred on the inside of the wrist when worn, the optional available butterfly clasp makes it easy to put on and take off the watch.
The
calibre 100.1
Discover everything about the heart of the INDEX.
Learn more
Tech Specs
Movement
Manufacture calibre 100.1, manually wound, adjusted in five positions
Special features
Grossmann balance; lateral pusher for disabling the handsetting mode and starting the movement; space saving and modified Glashütte stopwork with backlash; adjustment with Grossmann micrometer screw on a cantilevered balance cock; Pillar movement with 2/3 plate and frame pillars in untreated German silver; 2/3 plate, balance cock, and escape-wheel cock engraved by hand; broad horizontal Glashütte ribbing; 3-band snailing on the ratchet wheel; raised gold chatons with pan-head screws; separately removable clutch winder; stop seconds for handsetting
Functions
Hours and minutes, subsidiary seconds with stop seconds, Grossmann winder with pusher
No. of jewels
20 jewels, 3 of which in screwed gold chatons

Escapement
Lever escapement

Oscillator
Shock-absorbed Grossmann balance with 4 inertia and 2 poising screws, Nivarox 1 balance spring with No. 80 Breguet terminal curve, Gerstenberger geometry

Balance
Diameter 14.2 mm, frequency 18,000 semi-oscillations per hour

Power reserve
42 hours when fully wound

Operating elements
Crown in 750/000 gold to wind the watch and set the time, pusher in 750/000 gold to start the movement

Case dimensions
Diameter: 41.0 mm, height: 11.35 mm

Movement dimensions
Diameter: 36.4 mm, height: 5.0 mm

Case
Three-part, precious metal

Dial
Solid silver, hour markers in solid gold

Hands
Hand-crafted, steel

Crystal / display back
Sapphire crystal, antireflection-coated on one side

Strap
Hand-stitched alligator strap with prong buckle in precious metal