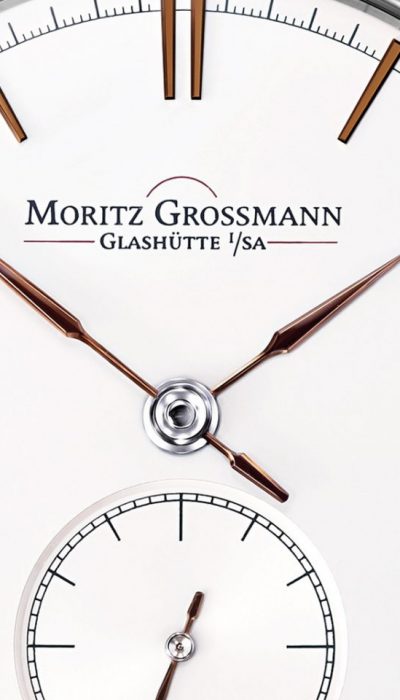 Versions
Stainless steel
Case:Three-part, stainless steel
Dial:White, stainless steel hour markers annealed in brown
Hands:Manually crafted, steel, annealed in brown
As part of their 10th anniversary celebrations, independent German watchmaker, Moritz Grossmann are delighted to present their forth unique piece, the ATUM White Brown. The model combines classic design elements in white and brown with a stainless steel case and an artistic, hand-finished movement.
A balanced colour scheme and the calibre 100.1 in a high-artistic finish sets this watch apart from the crowd. The ATUM White Brown also reflects a feature of the present-day manufactory — the striking use of steel annealed in brown. Brown markers and hands decorate the bright white dial. A brown alligator leather strap and an understated steel case round off the subtle yet striking look. Inside the movement, the screws in their gold chatons, the regulating nut and the back bushing are also annealed in brown by hand.
Moritz Grossmann was a distinguished and elegant character, traits shared by the ATUM White Brown — with its classic lines and rich colours. As well as being a master horologist, Moritz Grossmann was a great philanthropist who helped to make Glashütte a livelier, more vibrant place. Grossmann's intellectual curiosity led him to become involved in a large number of associations and institutions. He supported student watchmakers, for example, by giving them free language tuition in the evenings.
The Moritz Grossmann brand manufactures timepieces to the highest standards of craftsmanship under the tagline "Schönstes deutsches Handwerk" — "The most beautiful German craftsmanship". The ATUM White Brown is offered with the calibre 100.1 in an artistic hand finish as a single edition 1 of 1.
Moritz Grossman is working on something very special. Details on purchase options for the ATUM White Brown will be released over the next month.
Tech Specs
Movement
Manufacture calibre 100.1, manually wound, adjusted in five positions

Special features
Grossmann balance; handsetting override and start of movement with lateral pusher; space-saving modified Glashütte stopwork with backlash; adjustment with Grossmann micrometer screw on a cantilevered balance cock; pillar movement with 2/3 plate and frame pillars in untreated German silver; 2/3 plate, balance cock, and escape-wheel cock hand-engraved; broad horizontal Glashütte ribbing; 3-band snailing on the ratchet wheel; raised gold chatons with pan-head screws; separately removable clutch winder; stop seconds for hand setting

Functions
Hours and minutes, subsidiary seconds with stop seconds, Grossmann winder with pusher

No. of jewels
20 jewels, 3 of which in screwed gold chatons

Escapement
Lever escapement

Oscillator
Shock-absorbed Grossmann balance with 4 inertia and 2 poising screws, Nivarox 1 balance spring with No. 80 Breguet terminal curve, Gerstenberger geometry

Balance
Diameter 14.2 mm, frequency 18,000 semi-oscillations per hour

Power reserve
42 hours when fully wound

Operating elements
Crown to wind the watch and set the time, pusher to start the movement

Case dimensions
Diameter: 41.0 mm, height: 11.35 mm

Movement dimensions
Diameter: 36.4 mm, height: 5.0 mm

Case
Three-part, precious metal

Dial
white, stainless steel hour markers annealed in brown

Hands
Manually crafted, steel, annealed in brown

Crystal / display back
Sapphire crystal, antireflection-coated on one side

Strap
Hand-stitched alligator strap with prong buckle in stainless steel

You have questions about
ATUM White Brown